Mary Dykmann
---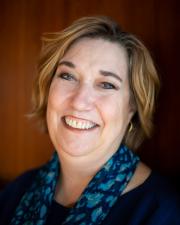 Community Engagement Manager
Biography
—
Mary Dykmann is the Community Engagement Manager KU Office of Economic Development and Edwards Campus. In this role, she is responsible for the logistics of events that promote academic programs, including both virtual and in-person. She provides project management for small and large projects/grants for the promotion of research, credit and non-credit programs. She is also responsible to the coordination of eight advisory boards for the KU Edwards Campus. These boards include over 165 people from businesses, organizations, educational partners and governments in the KC Metro area.
Mary has been at the University of Kansas for over 10 years and has held a variety of roles. Her previous experience includes working for diverse companies, the American Red Cross and GE Financial Services.
She has both her undergraduate degree in journalism and master's in public administration from the University of Kansas.