Tricia Bergman
---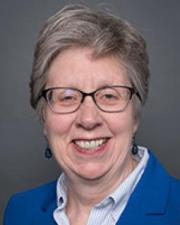 Associate Vice Chancellor for Economic Development
Contact Info
230 Strong Hall
1450 Jayhawk Boulevard
Lawrence, KS 66045
---
Biography
—
Tricia Bergman was named Associate Vice Chancellor for Economic Development in spring 2022. In this role, she heads KU's Office of Economic Development, which promotes local and regional economic growth through KU-based education and research activities.
Tricia previously served as KU's Director of Strategic Partnerships, where she worked with KU researchers and a wide range of industry, community and government entities to develop strategic university and corporate partnerships in support of economic growth.
Tricia has more than 25 years of experience in academia leading university research center operations and outreach activities, as well as developing and coordinating application-driven, university-based research. She works closely with KU Innovation Park, where she supports their current member companies and assists in recruiting new companies to the park. She has played a key role in developing entrepreneurial education and mentoring platforms that support KU startups. 
Prior to her experience in academia, Tricia spent over 10 years working in startup, small, and Fortune 50 companies managing and directing functional activities such as research and development, engineering, manufacturing, program management, finance and accounting. Tricia holds a bachelor's degree in mechanical engineering and a master's degree in industrial administration from Purdue University. Her husband is an engineering faculty member at KU. Her two adult children hold positions in a big-three management consulting firm in Los Angeles and a private equity firm in New York.